The ingredients
Flour, water, salt, lard or oil:
The ingredients of the Piadina Romagnola are few and simple, typical of a poor, but also healthy and natural, diet, connected with the land. The azdore, in the dialect of Romagna the women who run the household and the family, prepare them in small round loaves, which they flatten out with a rolling pin and cook on a red-hot griddle ("testo"), flipping them quickly with their fingertips to avoid being burned. This recipe, with small local variations connected mainly with either the size and thickness of the piadine or the family's eating habits, has been passed down for generations. Over time, a pinch of baking soda or yeast has been added, but its goodness is always identical to the original.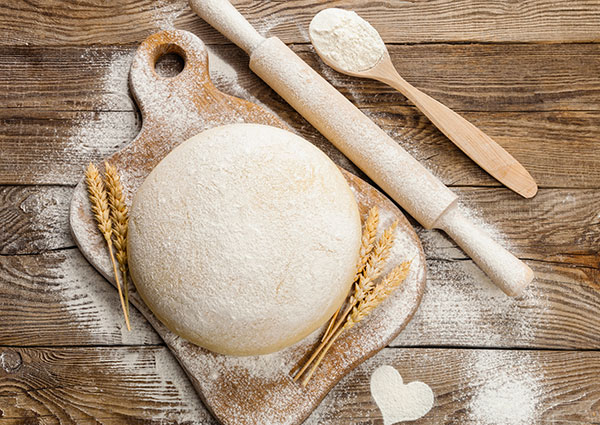 Thus the Piadina Loriana also remains faithful to the expertise of tradition. Its personal touch is the desire for constant improvement: with new technologies and service solutions, ingredient quality, and recipe creativity, which enhance even further the inherent goodness of the piadina and its versatility in cooking.
Here is a small taste of some of Loriana's variations:
Extra virgin olive oil has produced a piadina with a typically Mediterranean and 100% vegetarian taste, particularly fragrant and light.
Wholeweat flour, has made a piadina rich in fibre, nourishing and genuine, in line with new nutritional trends.
Durum wheat has produced a piadina with a unique consistency and the incredible taste of real Neapolitan pizza.
100% organic ingredients have given the piadina the certified and controlled quality of a naturally healthy, genuine food.
Rice flour has made possible the Light piadina which, together with its great taste, also has all the health benefits of 30% fewer fats.
Each ingredient of Piadine Loriana is meticulously selected, and all are processed according to tradition, without preservatives, colorings, or hydrogenated fats. The freshness and fragrance of Piadine Loriana are maintained naturally at length, for up to 4 months at room temperature, protected in their original packages.